What are AI bots and how are they used in customer service today?
Customers increasingly prefer remote communication channels. Research data shows that 47% of customers chose face-to-face contact before the pandemic. Today, only every fourth customer prefers face-to-face communication.
More calls are coming into contact centres, according to customer service leaders. Along with that increase, it is necessary to ensure the quality of communication with the customer and contain the amount of time each support instance takes. Along with the benefits of the banking products themselves, customers are becoming more sensitive to the level of service offered. On the other hand, for businesses, it all comes down to this question: "How can I handle more calls without increasing the number of employees?" The remedy for this turns out to be a technology that has already been on the market for some time: bots. Bots were created precisely to respond to such needs. This is thanks to their ability to understand the client's question and provide an answer based on pre-programmed conversation patterns and knowledge base.
Currently, the following types of bots are available:
Voicebots – these bots use speech-to-text technology; they are most often used as part of optimization in the IVR channel or as a stand-alone service
Chatbots – used as a form of customer service automation, often within a text messenger
Mailbots – used to easily automate email queries, which are still one of the most critical communication channels for banking institutions.
Each AI bot is developed to serve customers through three distinct channels of remote communication with the client: telephone, e-mail, and text. These tools are growing more advanced each year, but they are still far from being the most used communication channel with customers.
Why customers don't entirely trust bots
From the customer's side, there is still a lack of trust toward bot technology, especially among those customers who use remote communication channels. One issue is that most customers still have the desire to talk to a human representative in the customer service centre. Another issue is that modern bot technology works effectively in simple conversation scenarios. So, to estimate the potential benefit that automating simple queries can bring, we would need to verify how many simple queries are currently being handled by the contact centre. We have to remember, still, that customers want to talk to a human when they have more complex queries that are explicitly related to banking products. This is because, through the prism of trust and a relationship with another person, they feel more comfortable.
How to optimally combine AI with human customer service
Implementing AI services is still profitable once we know the scale of conversations a bot can handle efficiently. To implement AI services and also meet customer expectations regarding human support, we must prepare customer journeys that consider the synergy between the bot and the contact centre representative.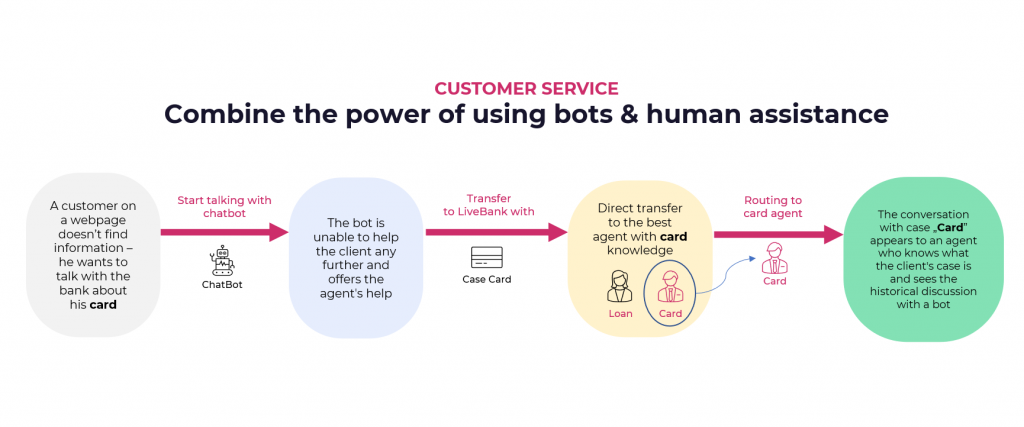 The most effective way to guarantee optimal quality and customer experience is by ensuring the smooth transfer of customers between the bot and human representative. Customers' expectations will be met if they can continue the conversation with the consultant at the moment when the AI bot is unable to share an answer to their question.
Two critical mistakes to avoid when designing your customer journey
Changing channels before the customer's problem is resolved
First of all, the bot must always be able to transfer the client to an agent within the service channel that the customer has chosen to engage with. Forcing a customer to use another channel would mean, for example, that customers who prefer to use chat would have to contact telephone support to solve their problem. That is why there must be a smooth client transfer to a consultant in the same channel.
Not providing the agent with the context from bot interactions
Beware of missing sending the context of the bot's conversation to the contact centre representative. This would mean customers would have to repeat the same information regarding their issue, in order to move forward with the conversation. This repetition is likely to cause frustration. Current technological solutions for text conversations are built to handle this problem well. Quality software can succinctly convey any previous discussion with the bot to the representative who comes online to intervene. This allows contact centre agents to familiarise themselves with the customers' problems without asking them to describe, again, why they have contacted the bank.
In the end, human and AI bot support is a winning combination in customer service
Combining bot support with contact centre agent support helps appropriately address customer concerns. When customers feel they can always count on human assistance, they see their chances of getting the help they need increasing. From the bank's perspective, the powerful combination of human and AI bots help financial institutions use human resources more efficiently and optimise employment-related costs. In addition, high-quality bot technology will transform the quality of contact centre representatives' work because they will no longer need to repeat monotonous conversations about simple topics and can focus their energy on solving more complex customer problems.
Beyond elevating customer outreach and care through convenient accessibility, advanced security and streamlined processes, LiveBank, uniquely on the market, can guarantee:
a significant boost in web form conversion
a comprehensive digitalization of complex processes (mortgage, loan)
an effective shortening of average call lengths
a substantial increase in first call resolution rates
an enhanced ability to activate and onboard new customers
a marked rise in overall sales efficiency
a strengthened market position with extended reach and attractive offer
Ailleron is proud that the LiveBank solution has been implemented in 22 countries and is making banking easier for over 300 million customers, but like any organization involved in developing solutions, improving processes and creating forward-thinking strategies, we know that as good as something is, it can always be made better. 
Unified, Coherent and Meaningful Customer Journeys
The realization of a fully functional, artificially and emotionally intelligent chatbot means that LiveBank's capabilities in managing banking needs and handling customers can be refined to deliver heightened operational efficiency, swifter response time and unmatched customer satisfaction.   
While our chatbot is proficient at conducting a wide range of procedures and successfully fulfils numerous functions, there could arise a time when a consultant is needed. If this happens, a seamless transition is carried out internally within the same window. Consultants have a record of a customer's interaction with the chatbot and are therefore up to date with the customer's situation. Customers do not need to repeat what was previously said and a consultant smoothly steps in where the chatbot left off. This state-of-the-art synergy between technology and human assistance is the pinnacle of modern customer service and ensures that awkward, uncomfortable and disjointed journeys are a relic of a past age.
Flexibility and Adaptability in Forming Your Digital Strategy
Every organization has its own values, aims and requirements, which is why Conversational AI is not a one-size-fits-all template for automation and digitalization. Ailleron's highly skilled and experienced team will work with you to analyse your needs, identify areas and procedures that would benefit from AI and design a customized AI plan ideally suited to your situation.
Moreover, customers are separated into logged-in and unlogged customers, meaning that security measures will enable logged-in customers to perform secure tasks using sensitive data while receiving specific, personalized responses from the chatbot. Users who have not logged in will be able to obtain information, make requests and begin processes, however, in line with legal obligations, will be limited in terms of providing and accessing confidential data. As with all aspects of LiveBank-Conversational AI, clients enjoy the freedom that comes with playing an active role in devising a tailor-made virtual bank. As a result, the workload handled by your chatbot is entirely determined by you-AI can play a supporting role in managing processes or be the centrepiece of your digital customer service operation. Regardless of the level of responsibility your chatbot will undertake, it will provide:
instantaneous, 24/7 assistance
meaningful engagement and personalized service
invaluable customer feedback (compiling data and revealing trends)
maximized optimization of duties and enhanced time management for staff
a rich variety of responses (text, images, videos and more)
a user-friendly admin system that is the perfect mix of creativity, practicality and efficiency
a competitive edge in attracting and keeping customers
Next Generation Technology: Efficiency, Speed and Convenience
Modern banking customers not only expect their banks to employ the latest technological advances, but also to utilize pioneering technology that anticipates and prepares for their future needs. The LiveBank-Conversational AI virtual banking solution is at the forefront of exceeding customers' expectations and effectively demonstrates how financial institutions can invest in upgrading their digital offer while cutting costs.
Implementation is flexible, customized and fast. Moreover, Ailleron's team of experts stands ready to support your teams through workshops (on-site and remote) until they are familiarized with our solution.
With AI-augmented LiveBank, banking has never been easier, faster and safer.
Banking customers now expect an integrated experience that includes multiple communication channels. Ideally, this should allow the customer to complete queries and transactions entirely within digital channels. However, the reality is that with complex issues and products switching between chat channels, video, and phone calls without interruption is rare.
Customers usually have to re-confirm their identity and repeatedly relay the same case details.
The utopian multichannel (or omnichannel) future that we've been sold in recent years remains in the future.
The question banking people ask themselves is: Will the omnichannel banking approach deliver on its promise anytime soon?
This article examines that question and, in seeking an answer, comes to a new understanding of omnichannel that might be a welcome surprise for you.
Who should read this article? If you are facing a decision related to transforming your customer/client communications approach, this article intends to guide you with that. We also recommend it if you are involved in the digitalisation of banking customer care and want to keep up with the latest developments.
So, what is an omnichannel?
The term omnichannel first appeared in retail marketing in the early 2010s. Omnichannel marketing unifies sales and marketing into a single integrated customer experience delivered across all channels used by a brand, whether digital or analogue.
The story of omnichannel banking began with the vision that the same set of services could be made available to a bank's customers across all channels. Whatever the digital venue, clients could perform the same banking operation, whether they used a website, a mobile app, spoke to a representative at a call centre or visited a branch. Soon after, real-time data synchronisation allowed a customer support session to begin in one channel and finish in another without the need to interrupt the interaction and provide the same data over again.
Omnichannel became even more visible with the arrival of 'virtual' banks – branchless online banks where the entire customer journey is digital. And right now, COVID-19 lockdown measures have forced bricks-and-mortar branches also to reshape their service models, enabling remote communication with customers. Online banking customers are usually well-prepared for the digital-only banking experience, and they are primed to reap the benefits of simplicity, convenience and a sense of control.
The transformation to a deeper digital experience can be more of a challenge for traditional banks that are at an earlier stage of digitalisation. They will still have a significant segment of customers who prefer traditional channels such as telebanking or in-branch banking. However, even this segment, driven by new technology, including smartphones and voice-controlled virtual assistants, and the COVID-19 circumstances mentioned above, are becoming more comfortable with a digital experience in their lives generally.
The reasons for conventional banks to develop a complete digital offering now outweigh the costs of not doing it. A bank going down this route gains a wealth of data analysis possibilities to help them understand their customers' needs in every part of the lifecycle. By applying data insights, the bank can deliver greater personalization, a more valuable offer and reduced customers churn. This leads to improved lifetime value from each customer relationship and greater profitability. The next ten years should be at least as dynamic as banks leave legacy systems behind and adapt to a focus on the individual customer rather than their product range and services.
Omnichannel evolution
Let's take a moment to look at omnichannel banking's main evolutionary steps.
The beginning
The initial advantage of omnichannel was that customers could use whatever channel they preferred to interact with their bank. They loved the fact that if they didn't want to pick up a phone, they could send an email, initiate a chat, or even interact through social media. It was an entirely new world.
Empowering as it was for the consumer, it became cumbersome and costly for the companies supporting them. Communication streams and the related technology multiplied, making it harder to manage systems and staff cost-effectively. Agents had to toggle between systems and switch between queues. It wasn't easy (or sometimes even possible) for an agent to know about other types of customer interactions.
The set of multiple – but essentially disconnected – channels meant customers could not switch from email to chat to a video call without repeating steps for providing identity verification and case information.
Moving on, the next evolutionary step sought to address some of these difficulties for banks while the experience adopted more interaction types that felt natural to the customer.
Now
We now see channels connected via a single centralised routing system. The customer experiences seamless transition between channels and conversations and can use channels in combination, benefitting from what each is best suited to. Managers and customer service agents can log all interaction types and have global access to customer history, making the customer journey more coherent and accessible while still allowing it to be dynamic and non-linear.
What's next, given that channels are already seamlessly integrated, and agents can transfer sessions between channels while maintaining continuity?
Next
The next step in omnichannel banking's evolution will enable:
Banks to have a deeper understanding of the customer and their needs by retaining their communication habits and preferences at a person-specific level. No two customers are alike, and each seeks help differently, too.
In effect, each customer will have their own individual banking support channel, where no detail is ever forgotten or lost. Additionally, the bank can proactively offer support according to a highly detailed picture of each customer. This brings about a real revolution in seamless, continuous relations between the bank, its agents and each individual customer.
Multi-channel vs omni-channel
Multichannel and omni-channel: how do they differ?
Multichannel
Allowing customers to transact with the bank via multiple channels
Understand what customers need through analytics
Based on a system of customer records
Relying on SOA: integration of applications and messaging
Omnichannel
Allowing clients to interact with the bank via multiple channels
Try to understand what customer wants and likes through analytics
Based on a system of engagement
Relying on Big Data: integration of customer context
What is the significance of this for banks and bank customers?
It comes down to this:
Where multichannel has a bank-centric viewpoint, a modern omnichannel banking solution is entirely customer-centric.
In summary, this means:
The full integration of the channels that customers use habitually, making the bank accessible without any special effort. Also, customers can be transitioned to more secure channels when needed, without interruption.
The full history and customer information profile is always present, regardless of channel jumps and conversation switches.
Using channels in combination to maximise the benefits of their specific capabilities.
Human contact and the services delivered in an automated manner work together harmoniously, and customers are never left hanging, wondering how to progress their query.
The coherent nature of interaction data allows the bank to proactively introduce services and products when they might be most beneficial and welcome, as part of the tailored support for each customer.
The customer can pick up the channels of their choice and move between them to progress their case.
What to look for in an omnichannel technology provider
With this new understanding, what should you look for in a provider of omnichannel platforms?
There is no such thing as a one-size-fits-all omnichannel banking solution. Each situation is different and requires customisation. Make sure your provider has the ability to listen carefully and work closely with you to define a tailored solution.
Don't underestimate what's at stake when making a decision that can have a significant impact on customer experience. The quality of the relationship between your bank and its customers is on the line! Make sure the solution provider is properly able to understand your customers' needs.
Find a provider that understands the importance of UX and can put that understanding to work for your customers, across all touch-points, from the briefest interaction (email) through to the fullest (video-calls with screen sharing). Make sure the solution provider has user experience specialists on their team.
We at LiveBank are happy to say we are an omnichannel solutions provider that displays all these qualities. If you wish to find out more about this vision for omnichannel banking or discuss your needs with an expert provider in this field, please feel free to contact us!
Conclusion
By now, you probably have realised that this vision of a customer-centric banking experience has the power to deliver on the original omnichannel promise finally. It can ignite a customer-relations revolution for online banks and traditional banks too. That outcome becomes much more attainable when the omnichannel solution is in harmony with your customers' existing habits and their banking needs. To make sure this happens, we recommend you collaborate with a specialist provider with a platform approach, one who is ready to carefully tailor the platform to fit the environment you and your customers operate within.
If this article was of interest to you and you wish to hear more about this subject in the future, you can also follow us on Linkedin.
As innovations in technology spread throughout the world, banks embarked on paths of rapid change which have gathered pace and will continue into 2020 and beyond. Disruptive technologies, including AI, machine learning, and robotics process automation are going to determine future successes and provide a wide range of opportunities.
A couple of years ago, banks and financial institutions were presented a challenge, namely, embrace the changing world of finance or fall by the wayside. Now is the time to reap as many possible benefits from technological improvements in the financial landscape as possible. To not fall behind the market, banks need to make a choice: shape the future, follow trends or put off changes. Standing still is not an option, as inaction will simply open the door to new, disruptive operators, who offer innovative, cutting-edge products and new channels to reach customers. Their processes, technology and organizational culture represent a forward-thinking strategy created to build advantages and defeat weaker competitors.
Here we present the pivotal digital trends in banking worth following in the near future. Digitization is an ongoing process, developing exponentially over the last several years which will keep enhancing and transforming the banking industry.
1. Customer experience, the most important factor
38% of banking industry customers pointed to user experience as the most important criterion for choosing a digital bank (Source: Digital onboarding for financial services).
The fact that today's customers need independence and swift access to banking products isn't surprising. People have become much more international and mobile, so flexible, seamless interactions with their service providers is a natural requirement. As clients started comparing financial services to the services provided by other businesses, such as Netflix or Spotify, expectations changed. People are more likely to use platforms where personalization plays a pivotal role and where they'll find offers tailored to their own preferences. By using these services, customers demonstrate their needs and reveal their satisfaction, which act as vital sources of data and information. The important thing is to think them through carefully, manage them properly, ensure security of their processing and present dedicated solutions. Certainly, an individual approach requires greater involvement but will pay off by increased interest and positive brand perception. Ignoring signs from consumers is fatal and without satisfying solutions customers, even loyal ones, will switch banks.
2. Digital evolution – branch banking transformation
As technology moved banking online, reduced cash payment usage and enabled remote access to services, a popular conclusion was that physical branches were no longer needed, though this is not entirely true. Their activity will still be important but the scope will change. First of all, real contact between clients and the bank advisors they interact with will always be required and available. The change will occur in communication tools – from traditional methods to digital channels.
Banks should use different service models geared to various end-user groups:
Digital only customers who most likely want to accomplish every operation through internet or mobile banking
Digital only customers who still need personal support through communication channels like chat, audio, video, email, social media messaging tools. Digital customer journeys should be enhanced by these touch points to provide product and service support through smart conversational banking platform, like LiveBank
Customers who use traditional channels like contact centers. Voice channel still represents a major remote communication channel, however there is a shift from contact centers to conversational banking platforms because of the competitive advantages of text-chat communication over voice.
Customers who use physical branches. Banks are educating customers about fast and convenient digital processes, and one of the solutions is deploying a VTM channel together with video, audio and chat channels in order to ensure swift access to remote advisory assistance, along with minimizing potential queues in bank branches.
Due to the higher operational costs brick and mortar bank branches generate, they will be reorganized and take new forms such as financial consulting centers or spots, where people can deal with specialists. Many leading banks have already started reducing the number of bank branches and staff employed there. In countries where the market is sated with bank branches, it is expected that a 20% decrease in their number will occur by 2020 (Source: Retail Banking 2020: Evolution or Revolution?).
When digitization became quotidian and the majority of banks had to face significant changes in order to adapt to customers' needs and market demands, new development strategies appeared in the banking industry. Research conducted on over 400 global bank executives by The Economist Intelligence Unit (EIU) on behalf of Temenos, indicated that as many as 36% of them want to build a greenfield digital bank. Drawing on specialized knowledge in the fields of banking, compliance, and security, banks want to create a new, digital-first brand, completely removed from old methods and systems. Anticipating this growing trend, many banks have already decided to build a profitable digital bank and so Ailleron offers Bank in the Box, a state-of-the-art, modular and open banking platform. Greenfield digital banking demands building everything from scratch but also means avoiding restructuring obstacles, as new brands will already be born digital.
3. The wave of AI deployments
Year by year the importance of technology will be greater, and deploying AI solutions will testify to effective tactical operations.  Since services will be far more personalized, AI techniques are needed to analyze behavior, information and discover customers' demands and to eventually build an intelligent conversational banking platform. Although thus far the banking industry hasn't implemented AI solutions on a broad scale, in the next few years we will witness their full integration into day-to-day business. In 2019 the digital banking mainstream was led by chatbots, which were incorporated into many banks' strategies to help solve basic problems and create a more customer-connected bank. It is predicted that by 2022 chatbots will be responsible for costs savings of over $8 billion annually (Source: Juniper Research). AI-driven solutions not only cut operating costs, they provide instantaneous, round-the-clock assistance, which is urgently required today. Furthermore, they automate work process and provide an invaluable source of the feedback and data necessary to create customized products and services.
Smart banking will be a motto of the future financial world. It will demonstrate a bank's attitude to customers' needs and its willingness to make changes. Managers should be aware of the fact that nowadays a cognitive attitude to customer expectations is connected with embracing AI solutions.
Unfortunately, cyber threats have grown along with increasing online activity. These risks go hand in hand with the tremendous speed of technological development, global data exchange and open banking, which enables third-parties to access customers' data.
The newest source of risk that is becoming more prevalent is IoT. As a fascinating solution, which significantly eases everyday activities, it also tests a bank's security system and threatens clients' data security. How? Banks establish cooperation with producers of mobile devices, such as smartwatches or fitness trackers, enabling mobile payments. If banks do not have appropriate protection, companies dealing with the service of these devices may not keep up with patching all security holes. As a result, hackers have much easier access to personal data. The more devices attached to the process, the higher the risk of being hacked.
Establishing a functional and consistent risk management plan that responds to evolving regulations (especially AML and CTF), while at the same time not raising costs and diminishing the customer experience, will be key in the immediate future. Cyber security is now a top challenge due to new technologies that expose clients' data to greater dangers, but also an opportunity to out-class the competition.
5. Trust in blockchain
In an era of high-risk cyber-attacks and tightening regulatory requirements, a fraud-resistant system used to protect and authenticate transactions can revolutionize the financial services sector. How? Blockchain is a decentralized database, therefore it is less prone to cyber-attacks than traditional bank ledgers. Irreversibility and the inability to make changes are factors that increase safety, and a permanent historical record is a backup of all operations that ensures their authenticity. In the traditional model, all information is located in one place, secured with obsolete security systems, easy to be bypassed by hackers.
Furthermore, the blockchain system decreases operational costs and administrative burdens, since it can be implemented in diverse areas such as payments, contracts, applications, insurance or trade financing, while improving the time-consuming KYC process. One disclosure of KYC documents can be used by other banks and authorized organizations, so once a customer's ID is checked and verified, there will be no need to repeat the KYC process. In line with customers' expectations, a great advantage is the introduction of real-time payments.
Clearly, leveraging blockchain in the financial industry can contribute to maximizing effectiveness, which is the strategic goal of every bank. However, if the perception and trust in such systems do not change, the presented business benefits won't materialize.
To sum up
Seemingly, the immediate future of the banking industry is quite clear. Although it's impossible to predict the future of the financial world precisely, we do know that technological innovations will shape banks' activity. Developing a winning strategy is founded on an open attitude to upcoming changes, evolving regulations, and customer demands. A bank's mission should be to adopt an appropriate approach towards this rapidly changing reality.
Livebank is a conversational banking platform which enables banks to build an effective communication hub.
Ailleron's fintech actively shapes the world of digital banking and we know that in the next few years embracing new technologies will be crucial for those organizations that want to maintain a high market position. Both banking and technology are changing rapidly, which is why we take into account prevailing and predictable trends in product development. In this way, we can provide our clients with tools that meet their needs, guarantee high-security standards and deliver the latest and most desirable technological solutions simultaneously.
By introducing technology based on artificial intelligence into our products, we created a chatbot that combines machine working capabilities with a human touch and is a tool that greatly improves customer service. To assist bank employees and customers, Ailleron also created the AI Prompter, a function of an agent's application which fulfills the role of an ideal co-worker, not only aiding in customer service, but providing on the spot training for employees. With its ability to recognize words and analyze language, it understands customers' intents and provides accurate responses. Such solutions make communication effortless, much more accessible and rewarding. Most importantly for us it further demonstrates Ailleron's leading role in shaping an agile, intelligent banking culture.
Written by Piotr Skrabski, General Manager and Mateusz Grys, Customer Success Expert at LiveBank.
Omnichannel. A word we've heard repeatedly in banking circles that still has a lot of clout. Its place, at the crossroads of "mobile-first", "digitalisation", and "customer-centricity", makes it easy to see why it still has relevance. Besides this, "omnichannel banking" holds out a great deal of promise for both banks and their customers. This is why we chose to continue the investigation of the topic here.
We hope that this article serves as a good starting point for those looking to build a business case for improving the banking customer experience through omnichannel. We look at the types of results you can expect to see and share examples from banks that have taken the plunge and implemented their omnichannel strategy.
Introduction
It's firmly on the radar
Omnichannel delivery is a close second to mobile channel development (88% to 93%) in what banks and credit unions say is their most important retail banking technology priorities.
Who's radar?
It is usually the people who are in charge of digital transformation or omnichannel department and enhancing customer service. These individuals may be referred to as Chief Customer Officers, Head of Omnichannel, Chief Transformation Officers or equivalent. Yet more advocacy is steadily rising in other places. As the links between customer experience and profit generation become more clearly understood, those concerned primarily with financial performance realise they could be "leaving money on the table", and so they become advocates for customer experience improvements, which in turn leads to increased support for omnichannel.
What's driving these thoughts?
Here are some of the factors that explain why we continue to dedicate brain-space to omnichannel banking.
Customers want it
They demand convenience and simplicity, irrespective of the kind of electronic devices or physical channels they use. They want to have full control over both the time and place of their banking and may switch devices to one preferred for the task in hand.
Case-based communication
Here, the customer is the centre of communication, with full access to conversation history and context. Advisors want to have a complete view of the previous interactions so they can include them all in a specific case or issue, along with the corresponding statuses and required actions.
Detailes insights
Using data to make offers that are timely and relevant. Part of a bigger shift towards customer-centricity and finding better ways to keep a finger on the pulse of buying behaviour, preferences and the choices of individual customers.
Customers value experiences
Studies show the lifetime profitability of a satisfied customer willing to actively recommend the bank to his or her friends is five to eight times greater than one who had a negative perception.
Gaining competitive advantage
Apple and Amazon are a clear demonstration that customer experience can be a competitive advantage and that real value resides not only in the products and services a company provides.
Boosting sales
Omnichannel banking improves customer experience, increases satisfaction and this results in an increase in product sales. We hear that the transition from multichannel to omnichannel increases the probability of customer satisfaction by 1.6x and increases the probability of sales growth by 2x.
Staying relevant
Lastly, the fear that retail banks might be viewed as an irrelevance by younger consumers who've grown up with mobile devices in their hands and can't see the point of travelling to a branch.
Hybrid communication:
Using artificial intelligence chatbots helps improve cost efficiency in answering routine customer questions. Chatbots also assist consumers by redirecting them to human agents, to get a response to complex requests.
These observations point to a sizeable win-win for banks and their customers, making omnichannel an even harder subject to push aside.
Now, let's look at the benefits and outcomes achieved by banks in the wake of rolling out an omnichannel strategy.
The benefits it is safe to expect
Banks that recognise the potential for omnichannel capabilities to increase revenues, enhance customer experience and reduce operating costs, still experience hesitancy in the lead up to their choice to adopt. From our own experience, and research we've done, here are some of the benefits you can safely anticipate:
You can start offering customers the channels they prefer and use habitually, saving them time and greatly increasing ease of access. They can move their conversation from messaging and social to securely authenticated channels when needed.
The omnichannel approach improves the ease of use of many customer interactions. The click-to-call feature on one bank's mobile app demonstrates how an omnichannel strategy can enhance the customer's experience. Customers can use the click-to-call feature to bypass the contact centre's identification and verification system.
Get to know your customer in greater detail, provide a more personalised experience and develop a longer-lasting, trusted connection.
Greater overall customer satisfaction. "The transition from multichannel to omnichannel increases the probability of customer satisfaction by 1.6x", according to Forrester.
Improved conversion rates at key moments such as account opening. The customer can start an enquiry when the intent is there, perhaps via smartphone on the way to work, start the application process, then pause and follow up later that day on another device, where they have easier access to the documentation required. Without the need to start over again. This also reduces churn, especially amongst your newest customers.
A higher number of financial products purchased by customers of banks with higher levels of digital engagement. In short, higher engagement builds trust, which in turn increases the share of the customer's wallet.
Increase in lifetime value from satisfied customers when compared to those with a negative perception.
We hope the points above have helped you understand the benefits you may safely expect from adopting an omnichannel strategy. We recommend you partner with an implementation specialist, to ensure you capture as many of the benefits noted above as possible.
Is there a wrong time?
Let's take time out for a reality check…
It seems as if it's the perfect time to embrace omnichannel, but surely it can't be right for every single bank, whatever the circumstances? Of course, there are times you should consider other avenues of action instead. Here are some signs that you might need to look elsewhere or practise patience.
It's probably not the right time when you cannot take onboard the organisational structure and cultural changes that accompany an omnichannel implementation. These changes may just seem overly costly and time-consuming, even though the benefits will be far greater at a later stage.
It's probably not the right time when you see no way of dividing the transition work into manageable pieces. Do you find it hard to separate out your customer journeys, so you can support them one-by-one, in the new omnichannel way? You may even want to divide the larger journeys into a series of individual steps, mortgages for example.
It's probably not the right time when you haven't found a suitable technical partner for your omnichannel project. There's the cost associated with implementation projects stretching out longer than necessary. Also, a problematic or rushed implementation can create a major new pain point for customers. One study reveals the highest number of US banking customers said, "make omnichannel work so we don't have to resupply the same information when switching channels"1. Ouch!
In short, adoption could be overkill for your bank or it may just not be the right time. If that's so, what can you do instead? Here's a suggestion:
Concentrate on optimising a single platform, mobile most likely, rather than spreading resources across a number of channels. By doing this, you'll be in a good position to undertake a full omnichannel implementation at a later date.
Look forward to these outcomes
If you've already seen the advantages but want to know more about outcomes from omnichannel implementation, here's a selection of the achievements we've heard of:
One European bank that implemented changes at scale saw consistent sales growth of as much as 20 per cent over two to three years, suggesting that the benefits of optimising omnichannel capabilities are ongoing and significant.2
As customers migrate to digital channels, banks are realising cost savings by reducing their physical footprint (in Italy and Spain the number of branches has fallen by more than 40 per cent from its peak in the 2000s). In these cases, face to face interaction was used for the more complex products, such as mortgages, whereas simpler products and everyday functions have been moved online.3
A bank based in Asia-Pacific is achieving a 43% conversion rate on follow-ups of abandoned personal loan applications.4
One bank from the Asia-Pacific region now conducts 40 per cent of its advisory meetings with affluent and mass market clients through remote channels and has, as a result, achieved significant productivity gains.5
Omnichannel engagement leads to higher levels of product use. At one bank, credit card customers who interacted with the bank through multiple channels were almost two times more likely to use their card than customers who did not interact through any channel and 50 per cent more likely to use their card than those who interact through one channel.6
Global banks that offer authenticated click-to-call from their mobile or online platforms have a "speed to answer" that is twice as fast and have reduced call abandon rates by 1.2 times.7
The 60 per cent of U.S. banks that offer web chat have 1.4 times higher digital sales and 13 per cent fewer inbound service calls than the 40 per cent that do not offer web functionality.8
A top-performing global bank based in the Asia-Pacific region follows up on more than 50 per cent of abandoned personal loan applications and is achieving a 43 per cent conversion rate from those follow-ups.9
In 2015, banks with above-average growth in digital adoption saw the proportion of branch cash and check deposits shrink at more than twice the rate of those with lower digital adoption, freeing up branch resources to focus on higher-value activities.10
Conclusion
We hope this article has helped you reflect on what, realistically, you can expect from your omnichannel strategy rollout. Whatever course of action you've selected, we hope you can now look forward to it with a greater sense of reassurance and clarity.
And lastly, a reminder: Omnichannel transformation requires partnership. We recommend you find a suitable implementation specialist, to ensure you capture as many of the benefits mentioned above as possible.
Want to discuss more about this topic? Schedule a meeting.
Bibliography:
1The Financial Brand, Fixing Banking's Pain Points Takes More Than Digital Bells & Whistles, https://thefinancialbrand.com/74095/bai-digital-banking-marketing-omnichannel-cx/
2McKinsey & Company, The balancing act: Omnichannel excellence in retail banking, https://www.mckinsey.com/industries/financial-services/our-insights/the-balancing-act-omnichannel-excellence-in-retail-banking
3Ibidem.
4McKinsey & Company, Retail Banking Insights Report, https://www.mckinsey.com/~/media/McKinsey/Industries/Financial%20Services/Our%20Insights/The%20winning%20formula%20for%20omnichannel%20banking%20in%20North%20America/The-winning-formula-for-omnichannel-banking-in-North-America.ashx
5McKinsey & Company, The balancing act: Omnichannel excellence in retail banking, https://www.mckinsey.com/industries/financial-services/our-insights/the-balancing-act-omnichannel-excellence-in-retail-banking
6McKinsey & Company, Retail Banking Insights Report, https://www.mckinsey.com/~/media/McKinsey/Industries/Financial%20Services/Our%20Insights/The%20winning%20formula%20for%20omnichannel%20banking%20in%20North%20America/The-winning-formula-for-omnichannel-banking-in-North-America.ashx
7Ibidem.
8Ibidem.
9Ibidem.
10Ibidem.
After Citibank has selected LiveBank to implement innovative virtual branches in 16 countries of APAC and EMEA regions, we are proud to present the latest implementation in this bunch. As a key figure in global banking, Citi has decided to introduce Virtual Remote Engagement (VRE) in Hong Kong to make its wealth management customers' banking experience even better. An implementation took place likewise in Singapore – VRE has been launched on Citibank Online with mobile banking possibility. Furthermore, soon it is going to be rolled out in other venues in Asia.
Thanks to LiveBank Virtual Branch solution, Citi deliver high-standard bank processes and simplify customer-bank cooperation without visiting stationary branch. So-called Citi Live Chat in Hong Kong is video, audio and text omnichannel platform which enables visiting bank branch whenever needed, providing with direct interaction and capability of realization almost every banking process online. The consultant is available 24/7 to answer bothering questions or help with basic activities like filling in an application form. What's more, there is a possibility of connecting with relationship manager remotely in order to review portfolio, supported by screen sharing, upload documents, files or links. By this kind of interaction, real human engagement is being preserved. It's completely innovative solution where privacy and security are essential values. Digital banking allows to authenticate a customer, using biometric facial recognition which makes virtual banking experience totally safe.
According to Citibank's data, so far over 50 percent of Citigold and Citigold Private Client customers in the region of APAC and EMEA are active users of bank's digital channel. It indicates that virtual bank branch is visibly acceptable solution to closing brick and mortar branches process. In this case figures speak very clearly, this solution is demanded and effective. Finally it is going to be introduced to a total amount of 15 markets in Asia Pacific and EMEA region. If you would like to get to know with more details about VRE in Citi and, click here.
You will also find the statement of Citi's Head of Consumer Banking for Asia Pacific, commenting on the launch of VRE in Hong Kong and Singapore.
LiveBank is definitely offbeat answer for rapidly changing customers' expectations as a peculiar touchpoint between bank and customer. It is mostly significant for affluent, tech-savvy segment which can be more engaged in digital banking than the general public. Especially for densely populated Hong Kong it should be a bull's eye.
LiveBank is a communication-hub
Evaluating customer journeys and business models are more relevant than ever. Regardless of ongoing digital initiatives, human assistance is still necessary to make processes friendlier and faster to implement.
LiveBank is a system which enables one to overcome distance digitally, making banking more accessible and convenient for banks and customers. Virtual branch banking is a reliable solution that ensures smooth, secure sales and service processes.
This White Paper will be showing you…
New revenue streams enabled with LiveBank
How to be a key player and supporter in digital customer journeys
Incorporating LiveBank in long-term bank strategy
Key business enhancements with LiveBank
LiveBank is a communica­tion and collaboration platform which enables a customer to contact a bank through chat, video and audio channels. LiveBank provides tools like screen sharing, document sharing, co-browsing, eKYC digital onboarding, as well as live chat which comes with the option of upgrading to video and audio connections.
In addition, it's a collaborative spot which ensures integration with social media messaging platforms.
If you wonder it's worth to invest, this document is for you.
Through simple business models and calculation, decision makers can obtain information with regards to the value achieved through LiveBank deployment as part of an omnichannel strategy. For these models we used an example retail bank: a mid-sized bank with 0.5 million customers.
Below you can find key facts and takeaways:
First Call Resolution ~90%
€10 million of additional sales income thanks to product and service advisory
Return of Investment (ROI) 202%
LiveBank is an omnichannel communication and collaboration hub for banks that aggregate all communication channels like text chat, video and audio. LiveBank provides retail banks secure and friendly contact channels for its clients.
This synergy of technology and people enriches communications and establishes the grounds for the digitalization of bank processes. As result of LiveBank implementation, banks experience a boost in sales, increased customer satisfaction and higher first call resolution rates.
The objective of the Pilot project is to allow banks to quickly assess how LiveBank can support selected business scenarios involving customers. The results can be measured using a KPI proposed by Ailleron, as well as other KPIs defined during an on-site business workshop. After 3-months of testing the bank is free to make a decision on the basis of real experiences with LiveBank – to either use LiveBank on a commercial basis or discontinue it without any further costs.
We propose the following scenarios for a Pilot. We recommend that 1-2 options should be selected for the 3 month Pilot in order to concentrate on specific targets.
Boost Web Form Conversion / Sales Efficiency
Digitize mortgage sales
Increase First Call Resolution Rates
Raise Customer Satisfaction
Extend the reach of the bank's offer and activate new customer groups
Simplify authentication and shorten average call lengths
The key assumptions for the Pilot project include:
Delivery via cloud (Microsoft Azure)
Free licences for 5 bank agents
Minimal integrations to save time and costs
Agreed list of functions based on the business scenarios to be supported
2 week delivery time
A bank has 3 months to test LiveBank on the defined business scenarios
If you find our offer interesting, feel free to contact us.
You can also learn more about Value of LiveBank – Virtual Branch  or watch short movie:
The number of people using digital channels to access their services is on the rise. However, the banks are sometimes struggling to seize the opportunity created by this sudden shift in customers' preferences. Boosting the sales is now easier than ever before — provided that your institution has the right tools to do it. Discover 5 innovative ways to do this!
1. Find your customers wherever they are
Customers are no longer willing to visit bank branches — and the pandemic has only confirmed their preferences. Today, banks have to reach prospective consumers wherever they are. Obviously, that cannot be done without digital solutions.
Omnichannel is one of the strategies capable of solving this issue. This simple, yet effective approach allows the customers to access banking platforms from any available channel, both mobile and desktop. The omnichannel feature also includes chats, videos, voice calls, email, social media that can be chosen according to the user's needs. Thanks to this revolutionary technology, your customers can visit your virtual branch wherever and whenever they are in order to access every product they may need at the moment.
2. Simplify access to your solutions
Thanks to omnichannel, your customers can find you online. Still, to use the financial services of their choice they need to fill out a number of forms that are legally required to complete the process. That step may seem simple, but it can be very deterring, especially when it involves a visit to a branch. Nowadays digital human-assisted channels play a major role in digital transformation by streamlining the processes and fostering relationships with the customer.
Moreover, the virtual branch provides digital onboarding for the banks who would like to increase the customer base, but also for the clients having their account and access to other products right away. This online module simplifies access to banking services by providing secure and comprehensive verification processes for new customers. It usually includes detailed instructions and tutorials aiming to make the entire experience as seamless as possible. What is more, digital onboarding does not require human support, however, it is possible to engage remote advisor if the local regulations require such a step or for the customer's convenience. Thus, the solution increases the customer base, creates a potential for x-selling other banking products, and is available in digital channels.
3. Improve security of your platforms
One of the customers' main concerns is the security of online banking solutions. To convince them to complete a certain service or purchase, financial institutions need to prove they have everything to ensure the safety of received data and personal details.
There is a number of modules and solutions that can help your bank achieve that goal. Photo verification, ID check, or even biometrics become increasingly popular, as they fulfill customers' needs for assurance and safety. They can also be beneficial for the banks — those features can quickly authenticate incoming requests, lowering the chance for unwanted or illegal activities in digital channels.
According to video branch channels, there are more integrations that boost security, like identification and authentication services, authentication. All communication in the system is protected with top-notch security technologies, resulting in data integrity and privacy. The security stack is continually updated and verified against changing security standards.
4. Enhance customer journey
Customer journey is more than just a few clicks leading to a sale. It consists of an intuitive interface, clear instructions, and easy access to all the necessary features. This can only be achieved when a series of UX design adjustments were used in the platform. The key to success is one agent application, which enables to handle all channels in one place without opening different tools. Entire communication regardless of the channels is accessible in one place.
The number and the type of design solutions used in a given platform may vary depending on the bank's offer, its main goals, and communication strategy. Those modules usually include a graphical toolbox, digital documents exchange, as well as necessary integrations and adjustable notifications. All those features — and many more — help the customers find whatever they need at the moment. Therefore, they are essential for boosting sales in digital channels.
5. Provide extensive support
Supporting end-to-end processes of the essence for every single sale involving banking products. Thus, it is easy to conclude that such a feature has to be included in digital banking platforms.
Online customer support may differ depending on the stage and the type of sales process. The very basic support solutions include detailed instructions attached to every single step of a process and optional human assistance via chat, video, voice call, email, and social media. Such features allow the customers to complete a process of choice in a few minutes, with no further interruptions. For example, a digital signature, which provides a secure standard for signing documents.
…or simply choose one platform to do it all
Implementing all those features can be challenging should they be introduced separately. A comprehensive solution can meet all the customers' needs at once without interfering with banks' everyday operations. Those turnkey technologies, such as LiveBank, can reshape customer journey and boost sales within weeks from implementation while adjusting newly acquired features to the bank's digital environment. Thus, this is a solution that is not only effective but also easy to maintain.
What is more, LiveBank comprehensive online banking platform can also be tailored to the needs of the particular service provider. The technology consists of several features and modules that may or may not be included in the package, depending on the customers' requirements. Thus, it is a perfect response to the dynamic changes in the world of banking.
Digital transformation has long been in the agendas of all the major banking strategies. It is not hard to see why – customers are eager to operate in the digital world, and they tend to fulfill their needs there. They also expect banks to follow in their footsteps. Because of that, more and more financial institutions focus on providing customers with better services through technology. However, in the digital world consumers still look for support allowing them to pursue their goals. Can banks provide it?
Customer in the center of attention
2020 caused a rapid change in customers' preferred channels. As the restrictions were introduced, users had to switch to digital and mobile banking. At this stage remote customer service has become crucial along with limited access to the physical contact channels branches used to be.
Even though banks have long expected their customers to go digital, such a rapid transformation has surprised many of them. It forced the financial institutions to go from product-oriented to customer-oriented perspective. Working on an omnichannel approach has suddenly become a priority. It was a simple answer to customers' expectations, as they wanted to be provided with the same quality of services in every channel. However, this involves providing an added value not only for the products, but also for services.
Remote customer service on the rise
While the importance of branches was significantly limited, digital banking started to play a pivotal role as a touchpoint connecting banks and their customers. In 2020 banks recorded a sudden rise in users' activities in digital channels. According to Capital Performance Group, that value grew by 10 to 30% in online banking and by 20 to 80% in electronic banking1. That is the reason why we can now observe a drop in the numbers of visitors in banks' branches. From a customer's perspective, a support is still crucial, even though the branches have lost their positions as transaction centers.
The growth has indirectly caused a sharp rise in the frequency of contacts between customers and contact centers. Thus, they have to evolve. The key factor in this evolution was providing the users with sufficient support while maintaining the same experiences they used to encounter while visiting bank branches2.
How do customers use remote communication channels?
Currently, banks can use remote communication channels to create personal connections with their customers. Modern communication technologies have significantly developed in the last few years, allowing them to support users in the digital world. They gradually become a base for sales, onboarding, service and retention processes. What is more, as new generations of customers enter the market, digital communication channels such as chats and social medias have grown in importance. As a result, thanks to innovative technologies each generation of users can now contact their bank in a channel of choice.
Traditional contact channels, such as a phone call, are still desirable among some target audiences. There are, however, many differences between different age groups. Those include:
90% of people around the age of 25 communicates via digital channels. Only 10% of them prefers to use voice calls. Social media and mobile apps are the backbone of their activities3.
Among people age 25-35 84% of customers use digital channels. Those customers prefer to use email, mobile apps and chat4.
Group aged 35-54 is phigital – their representatives use both digital and traditional channels. 51% of those customers prefer to use voice channel, while email is the most popular means of communication among digital channels.
People aged 54 and above prefers traditional contact channels, with voice calls being the channel of choice of 90% of them.
Each of those groups is characterized by a will to acquire information in their preferred channels on a similar level. That is why omnichannel is constantly growing in importance – the communication must be consistent regardless of the channel.
End-to-end processes (comprehensive processes aimed at transaction completion) are an important part of omnichannel strategy. The fulfillment of customers' needs in the channels of their choice is the key to good CX. Thus, one should avoid situations in which customers is forced to switch to other means of communication. It is a vital part of customer-centric approach in the age of digital transformation.
Remote channels more important for maintaining customer relationships
Customer service in remote channels will be one of the crucial elements in further development of banking – and it will have the greatest impact on customer experience. The role of service centers themselves will also change responding to the introduction of CX management.

By 2025, 40% of organizations engaged in customer service will transform into profit centers, becoming, in fact, the leaders of customer engagement5. In the same time proactive (outgoing) interactions with users will exceed the number of the reactive (incoming) ones. That is why a creation of new customer service model combining active approach, automation and expert customer service will be vital for further operations.
In the next few years, over 80% of organizations engaged customer service will abandon native mobile apps and switch to messages to ensure better customer service. By 2025, it will be correlated with a dynamic growth of conversational channels and new target audiences that are yet to enter the market of banking services6. On the other hand, the number of digital interactions with customer service is to increase by 40%. Thus, we can already notice that pandemic has created a new trend that will become the part of banks forever7.
Customer support – more than a competitive advantage
As the variety of services is becoming something more than just a competitive advantage, leaders of service and support have to rethink their approach to customers. The expectations of target audiences are constantly growing and each interaction is a chance to improve loyalty and alleviate disloyalty.
---
Last year was a year of dynamic changes. The need for adjustments and coherent experiences in every channel has intensified. Those factors are a part of switch to digital banking, and it will require an agile technology. Innovative solutions, such as LiveBank Communication Hub, can allow for efficient support during customer journey.
Bibliography:
1Capital Performance Group, Why Contact Centers Are a Key Part of a Human+Digital Banking Strategy, https://capitalperform.com/why-contact-centers-are-a-key-part-of-a-humandigital-banking-strategy/
2Ibidem.
3Dimension Data 2019, Global CX Benchmarking Report.
4Ibidem.
5Gartner, Top Customer Service and Support Predictions for 2021 and Beyond, https://www.gartner.com/smarterwithgartner/top-customer-service-and-support-predictions-for-2021-and-beyond/
6Ibidem.
7Forrester Research, Predictions 2021: It's All About Empathy, Digital, And Virtualizing Customer Care, https://go.forrester.com/blogs/customer-service-predictions-2021/