What is chat conversation?
A customer who is used to various chat applications in his life easily adapts to communication with the bank also using this means of communication. Chat connection is an option for asynchronous conversation between a non-authenticated customer and a bank employee. Such type of connections gives a possibility to proceed with solving the Client's cases at any time no matter if the other side is available at the moment or not. Unauthenticated customers can also chat with the bank employees but in a synchronous way.
Using Chat conversation
Establishing a chat connection is triggered by sending a message in the chat window of the LiveBank application located on the banking website or mobile banking.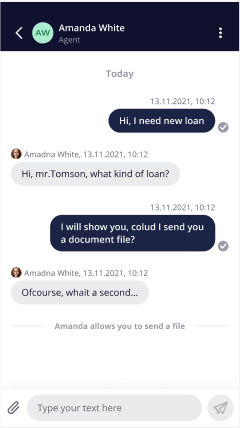 After sending the message, the system automatically assigns the conversation to the appropriate Agent according to the routing rules and specific start parameters such as the Case Type.
Chat connections are assigned automatically to a logged-in Agent in the status available for conversation by the routing system, they appear in the Conversation module on the In Progress tab.
The agent sees the customer's data or information that the customer is unauthenticated as well as the Topic and Case Type in the assigned conversation.
An agent can serve more than one chat conversation and during the conversation, the Agent can move freely between the chats and other application modules, without interrupting the ongoing conversation.
During the conversation Agent can manage the case by setting the adequate statuses or close and create a new one, to track its development.
The Agent can end the conversation when he/she decides that the subject of the conversation has already been exhausted so that he/she can receive further conversation, the customer cannot 'end' the conversation: for the authenticated Client, it is a continuous way of communication.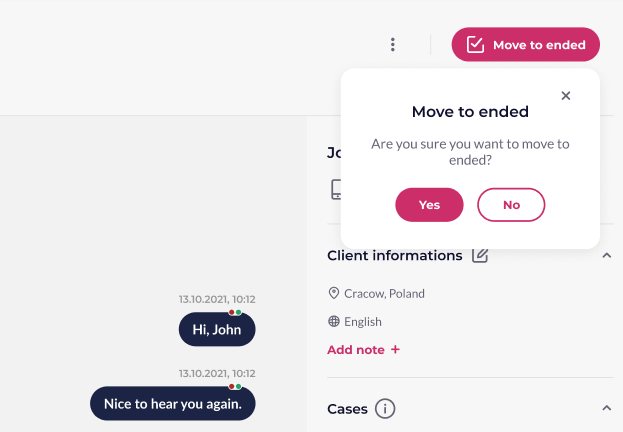 Multiple chats
According to the settings in the routing system, the Agent has a certain "capacity" of conversations, specifying how many simultaneous chats can be assigned to him. If the setting is greater than 1, the system automatically assigns more chats to the Agent.
When conducting more than one conversation, the Agent can freely switch between the chats visible in the In progress tab.
Also, the last message that was sent at a given time is displayed in the In progress tab so that the Agent can preview the latest messages in all active chat conversations.