Transform your contact centre into the centre of
excellence
Communication is the key to success in customer support. LiveBank is a smart communication hub for instant and secure communication in digital channels for both existing and prospective clients.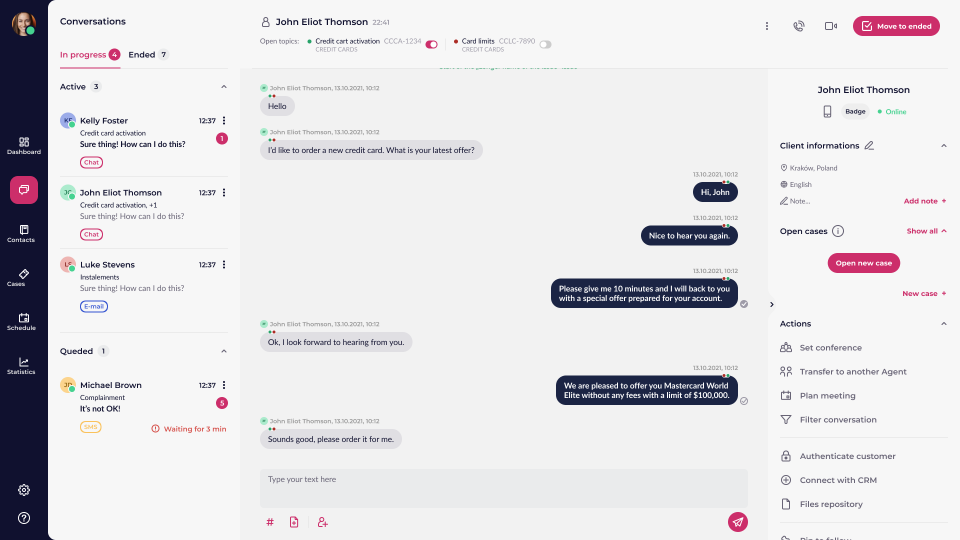 Communication
Ensure convenient access to digital banking with a human touch and handle your clients' matters in communication channels of their choice.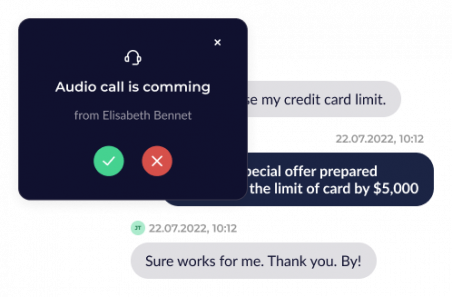 Logging

The Pre-login option enables contact for those who are not clients yet. Post-login means communication after logging in to online banking. This option provides a client's details and history. It is also possible to authenticate a client during the conversation.

Seamless switch between devices and channels

The possibility of switching between the devices or communication channels without interrupting the continuity of the conversation.

Inbound and outbound

Inbound and outbound Chat communication can be initiated by a client (Inbound) as well as by an agent (Outbound).

Conversation history & client details

Client information and comprehensive conversation history are always available for both agents and clients.

Message status & push notifications

Information whether the message has been delivered and read by the other party and notifications about a new event in the application, e.g. a new message

Multi chat

Possibility to conduct simultaneous chat conversations with several clients
Collaboration tools
Efficient collaboration with a client is one of the main factors that accelerate banking procedures and increase the number of successfully resolved cases.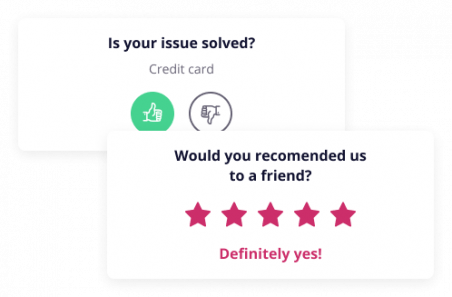 Screen sharing

Screen-sharing, or providing the screen view by an agent to a client and vice versa, comes in handy when discussing and analysing complex issues. It ensures that a client and an agent are on the same page.

File exchange

With the file exchange function, documents and links can be sent in both directions. All materials are available in the aggregated conversation history.

Co-browsing

When a client experiences difficulty completing the application, they may use a unique form of support – co-browsing. With the client's permission, the agent takes over and completes the form for them.

Graphical tools

Both agent and client may use graphical tools to highlight the text or point at certain elements with an arrow.
You need short answers?
With collaboration, communication, routing, recording and other features, you can design your own remarkable experience and get the most out of omnichannel.
Smart routing
Smart routing based on fully configurable logic ensures fast and efficient resolution of client issues. The call is routed to the currently available agent specialized in the given topic. This solution makes it possible to transfer cases between agents along with all the necessary information.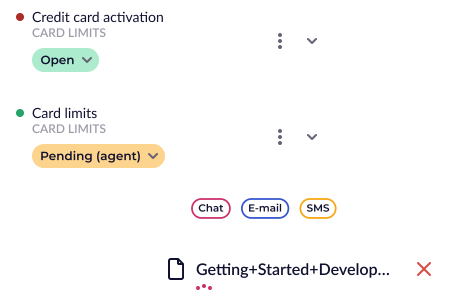 Integrations
Integrate banking systems and communication channels to offer efficient customer support. The one-point integration approach is a simple solution that guarantees reliable and time-efficient service.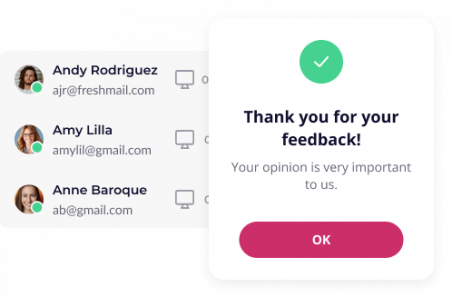 Touchpoints

Enable customers to contact you via a channel they prefer: chat, audio and video calls, messaging applications, email, and SMS.

CRM

Provide top-notch customer support by enabling immediate access to a complete set of client data from a CRM system directly in the agent application.

Banking systems

Mitigate complex dependencies and data dispersion by integrating LiveBank with back-end banking systems.
Analytics and reporting
The reporting module compiles data from the entire system and generates analyses, reports, and charts that help monitor employee performance, customer support quality and more.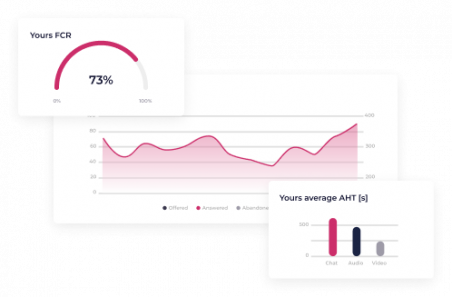 Realtime data

Customise agent's and supervisor's dashboards to keep tabs on KPIs (e.g., Service Level, AHT, ASA, FCR), ticket queue, agents activity, interaction topics, etc.

Historical data

Use visualisations to analyse historical data on agents and team performance, abandonment rate, and the number of interactions per case, topic or communication channel to model frictionless processes. Keep track of customer satisfaction levels and continuously improve CX metrics.
Our clients say it best

Conversation history and notifications about incoming messages are only some of the many solutions implemented as part of the project, carried out in cooperation with Ailleron. Very positive feedback from our customers shows us that we have taken the right path, which in turn poses additional challenges for us in terms of further product development.
Jarosław Ścigała
Manager of the Contact Center Development Department at mBank


An omnichannel platform for instant and secure communication over chat, video, audio and social media, optimizing remote advisory processes. An omnichannel platform for instant and secure communication over chat, video, audio and social media, optimizing remote advisory processes.
Aleksandra Buczkowska
Contact Center Director at mBank


As we have demonstrated in the past with our digital innovations, which has included the digital e-Kiosk, and the CommBank SmartWealth app – our awardwinning wealth management mobile application, Bank Commonwealth is committed to realising its digital transformation journey with CommBank Mobile. By partnering with LiveBank we have been able to make CommBank Mobile the next evolution of that journey, and the technology will ensure Bank Commonwealth continues moving towards our purpose: Building a brighter future for all.
Ming Chen
Director of Digital & Strategy at PT. Bank Commonwealth

Case-based management
Effective case management allows to open new cases and track the progress. It also facilitates the information flow and increases the efficiency of processes.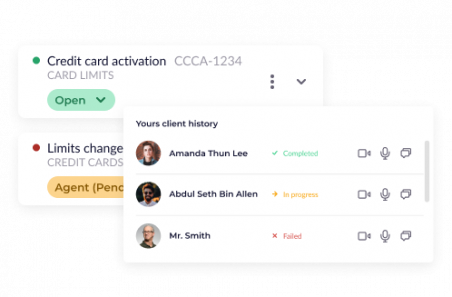 Case status

Tracking progress in case resolution by assigning an adequate status.

Client cases archive

A module containing all historical client cases that allows auditing interactions in various channels.

Case priority

Assigning priorities and sorting issues by priority.

Notes

Adding notes with the information relevant to the resolution of the case.

Multi-case support

Simultaneous handling of several client cases.
Agent work optimisation
Optimise agents' work by empowering them with an overview of processes and tools to automate or facilitate routine activities.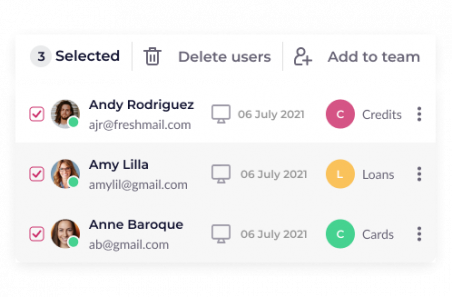 Customized greetings

Welcome messages sent automatically to a client when establishing a connection

Canned responses

Predefined responses that can be used by an agent in a conversation with a client to facilitate communication

Availability status

Information about the availability of both agents and clients with the possibility of changing one's status, e.g. during a break in work

Timers

Graphic elements and text information about connection waiting time, and inactive or queued interactions

Assigned client list

A list of clients assigned to a given agent