Capitalise on sales opportunities and convert prospects in a frictionless process
Enhance availability of banking products, support end-to-end processes, foster a proactive approach to sales, and generate cross-selling opportunities with LiveBank.
Chat, audio & video
Realize the full potential of digital banking by providing human assistance at appropriate points in the process to close a deal in a single interaction.
Chat

A client can contact the bank via a live chat that allows for real-time or asynchronous conversation that they can return to at any time, as the conversation history is always there.

Multi chat

Possibility to conduct simultaneous chat conversations with several clients.

Audio & video

If face-to-face support is required, the chat connection may be upgraded to an audio or video connection without interrupting the conversation.
Collaboration tools
Efficient collaboration with a client is one of the main factors that accelerate banking procedures and increase the number of successfully resolved cases.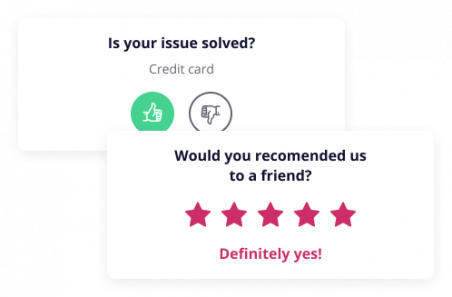 Screen sharing

Screen-sharing comes in handy when discussing and analysing complex issues as it ensures that a client and an agent are on the same page.

File exchange

With the file exchange function, documents and links can be sent in both directions. All materials are available in the aggregated conversation history.

Co-browsing

When a client experiences difficulty completing the application, they may use a unique form of support – co-browsing. With the client's permission, the agent takes over and completes the form for them.

Graphical tools

Both agent and client may use graphical tools to highlight the text or point at certain elements with an arrow.
You need short answers?
With collaboration, communication, routing, recording and other features, you can design your own remarkable experience and get the most out of omnichannel.
Secure remote work environment
Ensure the security of your customers' data and a risk-free work environment for agents
Data centre

All data is stored on servers in a region where your bank operates.

Encryption key

Data is encrypted using keys managed by your bank.

Data recording & archiving

You can record chat messages, audio, and video sessions to retrieve them when needed.

Agent SSO

A single sign-on streamlines access to the system and multiple resources.
Work management
Empower your sales force, coordinate workflow, and manage operations to help your agents achieve or even surpass sales targets.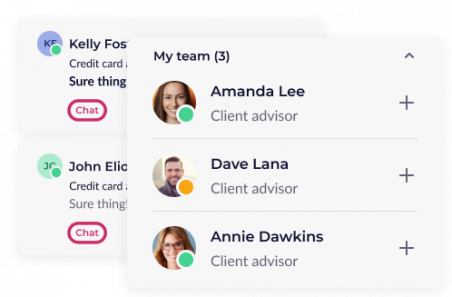 Teams organization

Create teams of agents assigned to a team leader.

Working hours configuration

Specify agents' working hours – clients can leave chat messages for agents to reply to during working hours.

Scheduling

Schedule online meetings with clients.

Custom roles & access authorization

Manage permissions and access to data .

Queue management

Enable the manual management of conversations – picking tickets with the highest sales potential from the queue.

Line of business separation

Create different segments of sales support.

Skill-based routing

Automated assignment of cases to agents specialized in a given topic to optimize workload and ensure the highest quality of service. API allows for integration with external routing.
Our clients say it best

Conversation history and notifications about incoming messages are only some of the many solutions implemented as part of the project, carried out in cooperation with Ailleron. Very positive feedback from our customers shows us that we have taken the right path, which in turn poses additional challenges for us in terms of further product development.
Jarosław Ścigała
Manager of the Contact Center Development Department at mBank


An omnichannel platform for instant and secure communication over chat, video, audio and social media, optimizing remote advisory processes. An omnichannel platform for instant and secure communication over chat, video, audio and social media, optimizing remote advisory processes.
Aleksandra Buczkowska
Contact Center Director at mBank


As we have demonstrated in the past with our digital innovations, which has included the digital e-Kiosk, and the CommBank SmartWealth app – our awardwinning wealth management mobile application, Bank Commonwealth is committed to realising its digital transformation journey with CommBank Mobile. By partnering with LiveBank we have been able to make CommBank Mobile the next evolution of that journey, and the technology will ensure Bank Commonwealth continues moving towards our purpose: Building a brighter future for all.
Ming Chen
Director of Digital & Strategy at PT. Bank Commonwealth

Online onboarding
Support the sales of banking products in digital channels with minimal assistance from sales agents.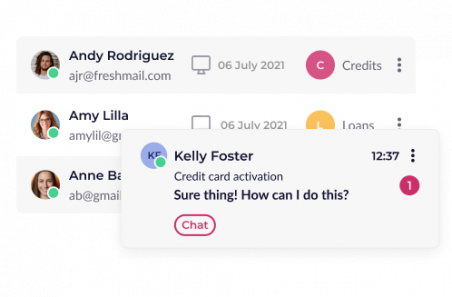 Authentication

During the communication with an unlogged client, an agent may trigger the authentication method available in a bank via LiveBank. With Single Sign-On a client logged in to the account needs no additional authentication.

ID Verification

ID and face photos are compared with the use of facial biometry. The document is rendered into a digital form to confirm the authenticity, and personal details are checked in internal and external databases.

Biometrics

LiveBank can deliver or be integrated with any biometric system employed in a bank, such as face recognition or fingerprint scan.
For more information,
go to the eKYC page