Solve
your problems

with LiveBank
How to manage IT infrastructure and
optimise costs

?

Reduce infrastructure and the need for large teams when implementing new value-adding features and capabilities.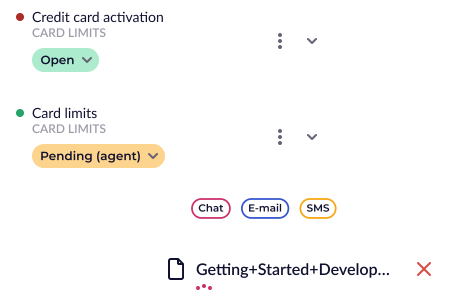 Cloud

Use the cloud-based service to eliminate the cost of maintaining IT infrastructure.

One-point integration

Benefit from one-point integration with various backend banking systems and mitigate complex dependencies.

Work optimisation

Relive human resources of tasks such as upgrades, configurations, or installation of security features to let them focus on managing the technology.

Flexibility of solutions

Quick and easy integrations and installation of new features allow for implementing and testing new solutions with minimum investment .
How to
flexibly adapt IT solutions

to business objectives?

Make technology a competitive advantage and unlock new revenue models and services tied to business priorities.
Scaling

Scale the system up or down by adjusting the number of licenses and adding or deactivating communication channels on demand.

Communication channels

Implement customer support channels that perfectly match your business cases and enable modelling of banking processes.

One-point integration

One-point integrations and quick configurations allow for flexible testing of new solutions and ensure short time-to-market.

Development tools

Apply a solution that offers easy SDK integration and meets internal and legal security requirements.
How to
avoid system fragmentation

and integrate new components in compliance with banking security standards?

Consolidate the system through the centralised deployment of interconnected software components.
SaaS

Implement a flexible modular SaaS solution that meets banking-class security standards.

Cloud

Ensure secure data storage and processing in a private or public cloud.

Tech-stack

Benefit from an advanced tech stack, security features, and regular updates.

Security

Reduce the risk of data leakage or interception by separating sensitive data and introducing appropriate security measures, such as programmes analysing traffic and reacting to potential attacks.
Direction of change

60% of banks plan on increasing investment in cloud solutions

Security

0 security incidents in LiveBank infrastructure in the last 8 years

Savings

10% of IT budgets are spent on security development – reduce this cost with LiveBank
Citibank has selected LiveBank – implementing innovative virtual branches in 16 countries of APAC and EMEA regions

Citibank has signed an agreement to implement Polish LiveBank technology, which will enable bank's customers in 16 countries to benefit from virtual banking without leaving home. This is the first implementation of a virtual banking system on such a large scale in the world. Citibank is one of the world's banking leaders. The bank serves […]

Read full client story

LiveBank revolutionizing Chinese Standard Chartered branches

Standard Chartered Bank, which has more than 1,200 branches in over 70 countries, has launched the LiveBank virtual banking system developed by the Cracovian company Ailleron in their Chinese branches. The bank had already implemented this pilot solution in Malaysia and Singapore, and the rapid adoption of LiveBank by users in the region opened the […]

Read full client story

LiveBank takes Greek bank into a new era of customer service

LiveBank will allow the largest Greek bank to create an e-branch service [1] – an innovative form of customer service that uses virtual advisors. This is yet another leader of a local banking sector which has decided to meet the needs of its customers by deciding to cooperate with the Cracovian company. Piraeus Bank is […]

Read full client story
See all case studies
Our clients say it best

Conversation history and notifications about incoming messages are only some of the many solutions implemented as part of the project, carried out in cooperation with Ailleron. Very positive feedback from our customers shows us that we have taken the right path, which in turn poses additional challenges for us in terms of further product development.
Jarosław Ścigała
Manager of the Contact Center Development Department at mBank


An omnichannel platform for instant and secure communication over chat, video, audio and social media, optimizing remote advisory processes. An omnichannel platform for instant and secure communication over chat, video, audio and social media, optimizing remote advisory processes.
Aleksandra Buczkowska
Contact Center Director at mBank


As we have demonstrated in the past with our digital innovations, which has included the digital e-Kiosk, and the CommBank SmartWealth app – our awardwinning wealth management mobile application, Bank Commonwealth is committed to realising its digital transformation journey with CommBank Mobile. By partnering with LiveBank we have been able to make CommBank Mobile the next evolution of that journey, and the technology will ensure Bank Commonwealth continues moving towards our purpose: Building a brighter future for all.
Ming Chen
Director of Digital & Strategy at PT. Bank Commonwealth