Customer feedback is one of the most important aspects of improving customer experience and business processes inside an organization. And a great way to gather feedback and measure customer satisfaction levels is by using customer satisfaction surveys. In LiveBank there is a simple CSAT survey that measures customer satisfaction within a given Case, allowing collect information from the clients after the appropriate case was resolved. The survey consists of 3 types of questions:
close-ended question with 2 possible answers to select (Yes/No)
rating question with five stars answer based on the net promote score method (NPS)
open-ended question with the possibility for the Client to write a comment.
Two first questions are obligatory to answer, the open-ended is optional. Case type of solved case is mentioned in the first question (e.g. In the picture below the Case type is "Insurance").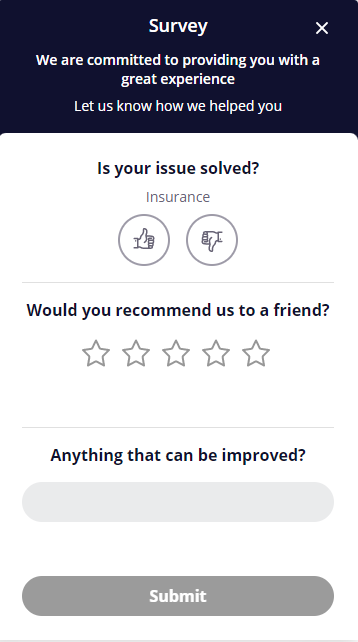 After the conversation is ended and the Agent marked the Client's case as resolved, the survey appears automatically on the Client's side. The Client can skip the survey by clicking the cross on the top or fill the survey. When the Client answers 2 obligatory questions, the Submit button will be available to send the answers to statistics for further analysis.