Mortgage
experience-changing

digital engagement technology

Scale up your mortgage operations with 100% remote lending
No need to visit bank branches with
fully remote home lending journey
LiveBank Customer Engagement Center
Easy to deploy Cloud-based platform designed with banking standards in mind.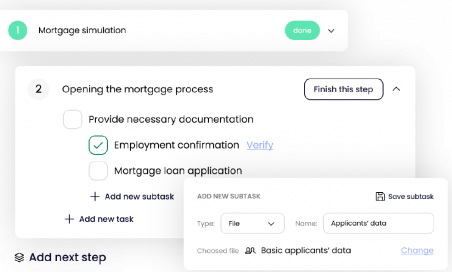 End-to-end home lending experience

Continuous assistance of professional mortgage loan advisors

All-in-one IT ecosystem

Single customer engagement platform integrated with multiple bank systems

Ready-made solution

Out-of-the-box cloud-based software proven in banks worldwide

Advanced collaboration tools

Secure file transfer, adding comments, document check, screen sharing

Customer visibility

Immediate access to chat history, uploaded documents and application statuses for both the client and advisor

100% remote

Secure and practical omnichannel service that covers the entire online home lending procedure

Real-life digital CX

Intense and distinctive customer experience with advisor-assisted digital technology

Performance supervision

Analytics and management reporting, data-based forecasting, performance overview

Paperless

Remote client authentication, document authorisation and fully digital e-closing

Accelerated mortgage process

Readily available advisors, quick feedback, fast information transfer

Secure document circulation

Centralised access to all documents integrated with a bank's repository system

Multichannel communication

Providing end-to-end service by seamlessly transitioning between voice, video, chat, email, and messaging

Customer satisfaction surveys

Realtime feedback on the lending process and advisor performance

Cloud scalability

Scale the number of seats up or down based on demand

User-friendly interface

White-label, intuitive and friendly UI
Attract
Use a remote approach to attract potential borrowers and successfully convert them into loan applications.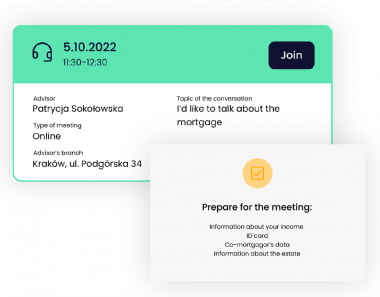 Target new leads

Attract leads across different channels to one platform and guide them through the loan process with features that improve communication and document flow.

Upgrade lead management tools

Provide your loan advisors with a dedicated channel for communicating with potential borrowers. Facilitate communication with a collaborative toolset to exchange documents, visualise the offer in screen sharing mode, and send direct messages synchronously or asynchronously.

Reach digital users

Meet the needs of digital users who expect an end-to-end remote service. Create a distinctive image of the bank's offer, distinguished by a trend-setting service model.

Increase advisers availability

Manage your team of advisors to be more accessible to new clients who can schedule an online meeting on any date and in any location.

Optimize your field workforce

Reduce field workforce costs by migrating leads to a trusted digital platform handled by your agents.

Reduce loan application processing time

The digital home lending process efficiently handles the loan application in a short timeframe. This is a key factor when borrowers choose which bank to apply to based on the likeliness of acceptance and speed of the process.
Engage
Enable advisor-assisted communication throughout the process to engage your borrowers in their home lending journey.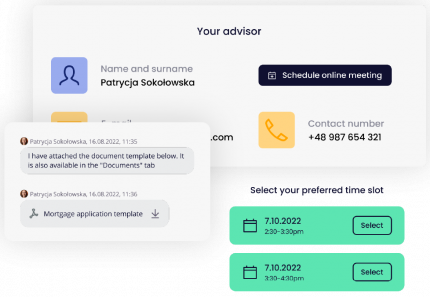 Manage pre-application documents

Let potential borrowers understand the paperwork process and guide them via a customer dashboard presenting a to-do list and documents to be delivered.

Provide available advisors with support

Assist your leads at every step in the process via inbound and outbound messaging, communicate synchronously or asynchronously, and add comments to each action when needed.

Collect data automatically

Streamline the process of collecting lead data with pre-filled forms or authenticating your existing customers with SSO.

Track and review the conversation

Keep the entire conversation on one platform with immediate access to chat history for the client or an advisor.

Introduce a multi-channel communication

Introduce instant communication: chat, video, adding comments, document checks, and inbound or outbound messaging.

Maintain transparent and customer-centered communication

Ensure the highest quality in personalised service. Keep the communication flow transparent, allowing you to track interactions based on a specific customer case and have instant access to conversation history.

Explore advanced supervisor view

Discover your leads' sources, analyse complex data, track application statuses, measure customer service quality, and manage workforce utilisation to increase conversion rate.
Apply
To reduce loan application timeframe, utilise automated processes, integrated collaboration tools, and easily attainable advisor support.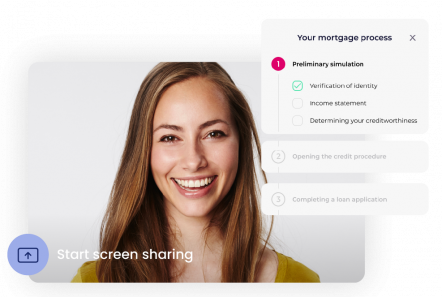 Use a remote authentication, authorization and e-Closing

LiveBank introduces e-closing, where mortgage document signatures are electronic and secure.

Collaborate on documents with complete visibility

Reduce documentation errors with active agent checks on the review tab and adding comments.

Keep one storage space integrated with bank repository

A quick integration makes it secure, easy and convenient to store and sync documents directly between LiveBank CEC and the bank's repository.

Supervise team performance

Analyse and manage workforce utilisation, track application statuses, improve customer service quality and quantity, and do data-based forecasting.

Reduce costs of lending

Utilise the resources you already have to process more leads and customers, digitise your service delivery approach, and reduce the cost of your field workforce.

Reach your borrowers faster with outbound messaging

Contact your borrowers immediately and shorten your application timeframe using instant feedback and asynchronous outbound messaging to prompt clients to act.
Close
Provide digital closing services with e-signing so borrowers can complete their paperwork without visiting a branch.
Close with e-signature

Give your customers a complete and secure remote mortgage experience they can begin and complete from the comfort of their homes. E-closing is preferred as it is convenient and straightforward to use and prevents needless face-to-face interaction.

Improve customer experience to propel next-level growth

Delight your digital customers by allowing them to take mortgage loans remotely and give them a unique digital experience.

Cross-sell optional products

Let borrowers purchase additional financial products utilising data they gave during the application process.

Digitize safely and securely

Deploy a solution for banks that guarantees the highest security and compliance standards. Handle your home lending processes in a way that customers can trust.

Analyze customer feedback

Gather and analyse customer feedback to improve the quality of the offer and the customer service itself. Use customisable polls, then, once complete, measure NPS and act immediately.

Set standard for the industry

Set the market standard for remote home lending sales, and create new opportunities based on digital trust and the unique convenience of human-supported digital solutions.
Optimized mortgage origination

Dispersed teams empowered

Secure and compliant platform